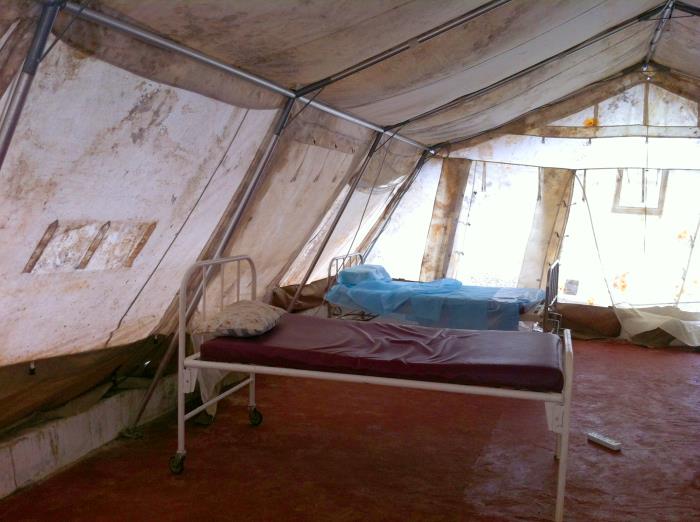 This photograph was taken in the West African city of Freetown, Sierra Leone, and highlights the new Ebola isolation center, a week prior to its opening. Photo Image: CDC, 2014
Twenty one days is considered the general rule for quarantine where suspected or possible exposure has occurred with cases of Ebola (EBV). I am not a fan of airport screening procedures currently in place at several international airports for the main reason that they are ineffective as a method of reducing the risk to public health, both in practice and with regard to positively identifying Ebola cases, even when a person is in the early stages of becoming symptomatic. A low viral load often requires retesting several times and the general rule with a negative is to retest when the viral load may be higher and while a patient may still be asymptomatic but possibly infectious. Several cases of health workers initially testing negative have been well documented in the current outbreak in West Africa. While twenty one days as well is considered the average time-frame wherein a patient would become symptomatic and contagious, the World Health Organizations has stated that infection and transmission up to 35 days and 90 for some bodily fluids such as semen, is a possibility and should therefore be taken into consideration when planning for public health, isolation and quarantine. Just to note CDC offers this definition and distinction between quarantine and isolation:
Isolation

separates sick people with a contagious disease from people who are not sick.

Quarantine

separates and restricts the movement of people who were exposed to a contagious disease to see if they become sick.
The recent case of a health worker returning to Scotland would seem to necessitate the need for review of protocols and procedures, not only with regard to airport screening methods but also and more importantly the use of perhaps contractual quarantine in country and the issuance of a health certificate before flying to other destinations, similar to regulations requiring passengers to prove they have had Yellow Fever vaccinations and to carry a health certificate. Health certificates are generally used in most nations to prove that either a passenger has been vaccinated against endemic diseases or is not contagious if symptomatic. For example health certificates are required on some western airlines for children and adults with obvious chicken pox scabs (not related to smallpox--there is sometimes confusion over this), clearing them to travel. In an article entitled: "UK Ebola patient was cleared to leave Heathrow despite health concerns," within the context of screening methods and the potential exposure of the travelling public to Ebola, the paper notes,
"
The development came after (Public Health England) PHE vowed to review its quarantine procedures after they were branded "utterly illogical" by an NHS doctor who returned from Africa with Cafferkey.
Dr Martin Deahl, who sat next to Cafferkey on a flight to the UK from Sierra Leone, told the Guardian public health was being put at risk by "totally inadequate" screening facilities at Heathrow airport. He also criticised PHE guidance that allows health workers who have had direct contact with Ebola victims to travel home on public transport from a UK airport, but tells them not to catch buses, trains or planes or enter crowded places once they are at home.
In response, PHE confirmed it would review its screening procedures but said they were in line with other organisations that had sent volunteers to tackle the Ebola outbreak in west Africa." Source:
http://www.theguardian.com/world/2014/dec/30/uk-ebola-patient-cleared-leave-heathrow-despite-health-concerns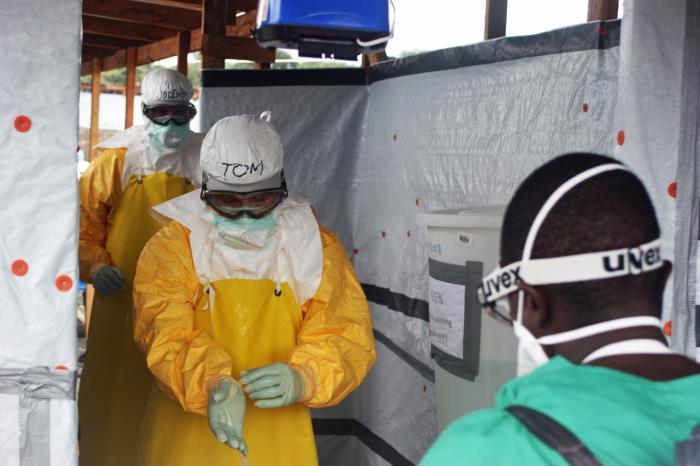 Image Source: CDC
Nations are reluctant to impose mandatory quarantine for returning health workers and most are asked to self-monitor at home for twenty one days. The risk, if there is one is to the travelling public and family who may be exposed during the twenty one day monitoring period. Generally, mandatory quarantine is highly effective but considered difficult to legally impose in democratic states as it impinges on civil rights. It would be far better to have health workers and other staff, prior to leaving for West Africa and as a condition of a contractual agreement sign a statement agreeing to stay in quarantine in West Africa and receive a health certificate prior to departing to their home countries.
When we consider public health security it makes sense not only to ensure the countries most effected: Guinea, Liberia and Sierra Leone, have adequate Ebola treatment facilities, units and lab capacity for rapid diagnostics, but also to ensure Ebola does not travel outside these countries by providing adequate facilities for quarantine, isolation and treatment of non-national staff. One way, perhaps among several, to curb secondary transmission in democratic society is to contractually commit health care workers and staff to abide by an in country twenty one day quarantine and require health certificates prior to departure or the use of mass transit systems.
Dr.Jill Bellamy is an internationally recognized expert on biological warfare and defence. She has formerly advised NATO and for the past seventeen years has represented a number of bio-pharmaceutical and government clients working on procurement strategy between NATO MS and Washington DC. Her private government relations consultancy Warfare Technology Analytics is based in the Netherlands. Dr. Bellamy's articles have appeared in the National Review, The Wall Street Journal, The Washington Post, The Sunday Times of London, Le Temps, Le Monde and the Jerusalem Post among other publications. She is a CBRN SME with the U.S. Department of Defence, Chemical, Biological, Radiological and Nuclear Defence Information Analysis Center and CEO of Warfare Technology Analytics.